From residential spring cleaning projects to 500-office building cleanouts, JDog Junk Removal & Hauling LLC can tackle just about any junk hauling project your property may need. We're a team of licensed and insured professionals with the skills and tools necessary to provide a superior trash removal experience for our customers. Whether you need dumpster rental service or demolition contractor services, we're the team you can count on! Our professionals are also pleased to work with banks, landlords, and property owners when it comes to full-scale estate cleanouts, ensuring exceptional craftsmanship and fair prices for all of our customers. Even if you just want to rent a dumpster, we can do that, too! Call or e-mail JDog Junk Removal & Hauling LLC to learn more about our comprehensive junk removal services or to receive a free estimate today.
Licensed, Insured, EPA-Certified Professionals
Junk Hauling for Homes and Businesses
Roll-Off Dumpster Rentals
Free E-Waste Drop Off (Excluding TVs)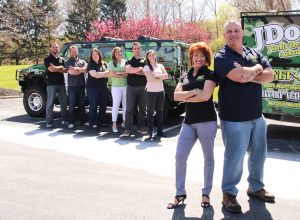 Conveniently located in Troy, NY, JDog Junk Removal & Hauling LLC is your answer for full-service trash removal in the Capital Region. Committed to offering our customers very reasonable pricing and some of the best workmanship in town, we're proud to service a wide area, including Albany, Loudonville, Saratoga Springs, Delmar, Ravena, Voorheesville, Schenectady, Clifton Park, and Hoosick Falls. No matter what kind of junk removal or demolition contractor service you may need, JDog Junk Removal & Hauling LLC has got you covered. Working hard to provide Albany-area customers with complete, efficient, and cost-effective garbage removal services, we're the team you can count on to keep your home or business looking its best.
At JDog Junk Removal & Hauling LLC, we're happy to work with both residential and commercial customer needs. Whether you need to remove a ton of clutter from your attic or you need to clean up an apartment for a new tenant, you can rely on the fact that our efficient junk hauling service will be exactly what you need. When you choose to work with our professionals for quality trash removal or yard waste removal service, you'll truly be amazed at just how affordable junk hauling can be! In fact, we even offer free estimates so our customers can be certain that they're getting the best deal in town. Contact JDog Junk Removal & Hauling LLC today to receive a free estimate or to set up a service appointment.
For your peace of mind and protection, JDog Junk Removal & Hauling LLC is fully licensed and insured.